From 30 May 2016
I´m still HERE (in Olivos, that is)!!! It´s a lovely feeling :) Hermana Woodard and I are getting a third cycle here, and we are STOKED because this is going to be an AWESOME time. We are both hitting our year-marks, President Anaya is leaving and President Nauman is coming (changes in mission Presidents are surprisingly big events), and there´s a whole bunch of other exciting things happening as well :)
This last week was lovely, and in spite of being sick, we got a lot of work done, met and taught some new people, and we helped our little friend Danna get baptized :) It was a happy day! Also, rainy season has started, so we got stranded twice, and the chapel flooded once this week :D We were going to have a lesson at the church, but first we had to clean up the 1.5 inches of water that were in the entry-way and a couple of classrooms. The good news is that carpet is pretty rare in Mexico (for this reason) and water doesn´t do much damage to tile. And we did eventually get the water cleaned up, and we had our lesson :)
Also, here´s a funny tid-bit: when we fill up the baptismal font here, we use a LOT of water. Because we don´t really get it that dirty, the church uses it to water the lawns outside of the chapel. So the grass is LITERALLY greener when a lot of people are getting baptized. It´s pretty exciting :)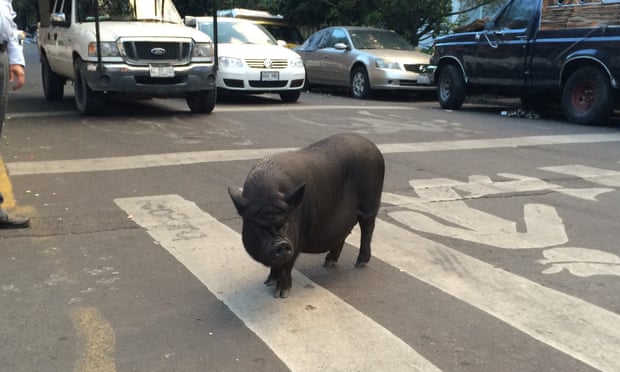 not the pig seen, but an internet image that
confirms, this does happen!
Other exciting things that happened this week: we got sick (and toughed it out), our mission President called us up one day and dropped his wife (Hermana Anaya) off with us to go on visits for a couple of hours, and we saw a pig the size of a pony in the middle-section of the divided highway in front of our house :) It was being shepherded by two dogs (no humans) to who-knows-where. Mexico continues to surprise Hermana Woodard and I every day.
Have a truly fantastic week, and don´t forget to read the scriptures because "the words of Christ will tell you all things, what ye should do."
Lots of love,
Hermana Houghton