From 14 December 2015
Hermanas Bracamante and Houghton
Dearest Family,
FIRE! Fire because this morning our building was on fire (literally), and because then a little later-on we were on-fire (not literally). So this morning because it is PDay, we did our normal 2 hours of studies, and then packed up some exercise clothes, a soccer ball, and a couple other items and left the building. Standing outside were all of our neighbors, wearing PJ´s and holding their cats and dogs (because everyone has pets here...). We were a bit confused, until someone told us there was a fire. Fortunately, since everything is made of concrete here, fires aren´t too much of a hazard, and it was put out in short order without anyone getting hurt or anything. So after that we made our way to the "Zone Activity" which was a scavenger hunt that inlcuded activities like: "Contact someone in the street and invite them to be baptized", "make two baskets from the freethrow line", "knock on a door and sing a Christmas carol and share a short message about Christ", and pass out 3 "A Savior has been born" cards. It was rather interesting, especially since the whole zone was contacting in the same area, but it was also awesome. Miracles happen people.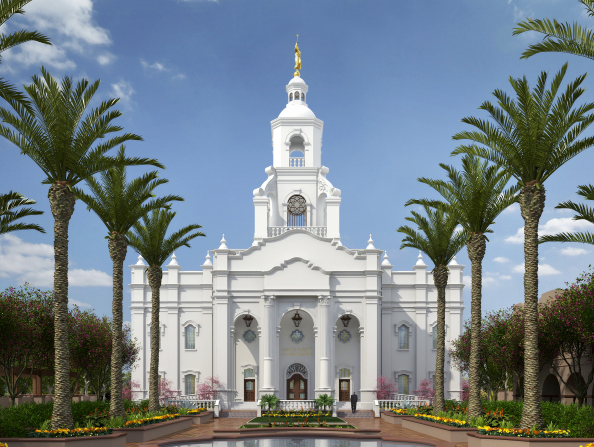 Speaking of miracles, yesterday we got to see the Dedication of the Tijuana Temple, and the sealing of the corner stone by President Uchtdorf and Elder Oaks. It was really awesome, and a bit unprecedented (because usually they only broadcast dedications to the district of the temple being dedicated) because all of Mexico got to see it. Also, the Tijuana temple is gorgeous, and its President is
President Hinckley´s
son, which is very special since so many of the temples in Mexico were built when he was President of the church.
Now. You may be wondering what on Earth we are doing with investigators at this point and I have to tell you, it´s been an interesting couple of weeks. Right now we´re going through a bit of a dry stage in which we are searching (high and low) for new investigators who are really prepared to receive the message and progress. Unfortunately (or perhaps fortunately) there´s a bit of a time-lapse in between finding new investigators and their getting baptized because each person who gets baptized has to go to church 5 times before they are eligible to be baptized. But, I love looking for investigators because you find them in the strangest, most unexpected places, and in very miraculous ways.
BTW Spiritual Thought:
Jacob 5
is awesome. NO seriuosly. Read it. The Lord watches over His children, and it is such a unique blessing to be able to meet someone in the street, share a short message, and testify to them that as representatives of Jesus Christ, He sends us to touch the lives of certain people, and to let them know how much He loves them. We are children of an EXTREMELY loving Heavenly Father, and He wants to help us in so many ways, we just have to let Him.
Ok, that´s it for now folks.
Lots of love,
Hermana Houghton
P.S. Christmas isn´t a huge deal in Mexico... but the 12th of December is! (for more info on this Mexican custom, please google
"the Virgin of Guadalupe"
)